If this guy isn't a World Class Douchebag, it will be hard to find one.   When someone is so extreme as this nitwit against any equality for people not like (or perhaps like) himself, cough, homos, maybe this family man, married father of four, was just doing "research" and liked what he found.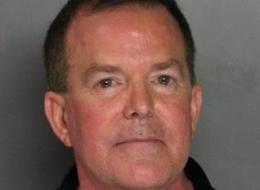 The Sacramento Bee reports:
Early Wednesday morning, State Sen. Roy Ashburn (R-Calif.) was pulled over and arrested for drunk driving. Sources report that Ashburn — a fierce opponent of gay rights — was driving drunk after leaving a gay nightclub; when the officer stopped the state-issued vehicle, there was an unidentified man in the passenger seat of the car.
Ashburn has issued an apology for the incident:
"I am deeply sorry for my actions and offer no excuse for my poor judgment. I accept complete responsibility for my conduct and am prepared to accept the consequences for what I did. I am also truly sorry for the impact this incident will have on those who support and trust me – my family, my constituents, my friends, and my colleagues in the Senate."